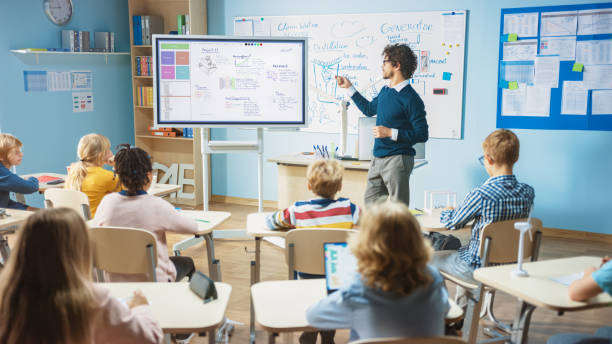 The learning method used for the secondary school level at Global Sevilla is research and project-based learning. It aims to shape the students' character to be innovative and creative through project-based learning, research, laboratory activities, field trips, and self-study. Here is the detailed education program at Global Sevilla International School di Jakarta.
Grade 9-10
IGSCE Examination
The main objective of secondary school at Global Sevilla is to pass the Cambridge IGCSE Examination. In particular, students are seriously prepared to be fully prepared when facing the exam. Moreover, for the integration process with the national curriculum, students are also prepared with the National Examination for the junior secondary level.
Global Sevilla makes ground rules for taking IGSCE subjects. Following the provisions of the ICE Certificate, there are two languages ​​from Group I and one subject from each Group III-V that students must take. Furthermore, students can select seven subjects from the five subject groups. Here is the detail about the Group subject.
Group I: Languages
Group II: Humanities and Social Sciences
Group III: Sciences
Group IV: Mathematics
Group V: Creative, Technical, and Vocational
Subject Offered
The subjects offered in Global Sevilla International School di Jakarta include Character Building through Mindfulness (CBM), Bahasa Indonesia, First Language English, English as a Second Language, English Literature, Chinese Mandarin, Mathematics, Additional Mathematics, Biology, Physics, Chemistry, Economics, Business Studies, and others.
Grade 11-12
Cambridge Advanced Level (A-Level)
Cambridge Advanced Level (A-Level) is a program that will build a strong foundation for good-quality international education students. Furthermore, through this program, students can be better prepared to face studies at the next level. To support this program, Global Sevilla provides skilled and capable teachers to support students to be the best for A-Level.
National Program
At Global Sevilla, there is also a national program that offers general subjects to students, such as Science and socials. In addition, due to the new policy, integrating international education in this school requires students to be ready to do the ANBK (Asesmen Nasional Berbasis Komputer).
English Proficiency
Global Sevilla International School di Jakarta provides an English Proficiency Program to support students in preparing for standardized TOEFL and IELTS tests which are useful for continuing their studies abroad. This program consists of two types of study focus, namely reading & writing and listening & speaking, both of which are skills that students will need later on during the test.
The secondary education system at Global Sevilla carries an international curriculum that makes graduates from this school of good quality. According to that, this school also integrates international education with the applicable national curriculum. Parents who want to find a school of good quality can choose Global Sevilla Secondary School.